about Diane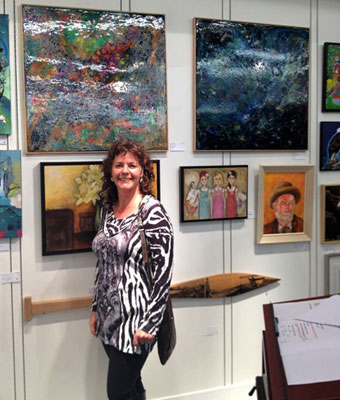 Diane Adolph is an accomplished visual artist based in Victoria, B.C.
Raised in Calgary, Alberta, Diane attended the Victoria College of Art, where she fine-tuned her unique artistic style and bold use of colour – both of which have become her hallmarks over the past 20 years. Her earlier involvement in stained glass also had a significant influence on her dramatic use of colour and composition.
According to the late Victoria College of Art founder Joseph Kyle, Diane was the first student to ever sell a painting at the institution's annual graduation show; he went on to recommend her to the Quinn Gallery, where she continued to sell her works.
Since that time, Diane has won admiration from tourists and locals alike, selling her art at seasonal Victoria venues including the Bastion Square and Government Street markets, and generously donating pieces to local fundraisers such as the popular CNIB Eye Appeal Art Event.
Publication through Island Art Publishers and many outstanding local art events such as the Sooke Fine Art Juried Show and the Sidney Fine Art Juried Show have also kept Diane's vibrant paintings in the public eye.
Because of her belief in growing as an artist and adding a fresh perspective to her artistic expression, Diane has added an abstract collection to her body of paintings – a move that she calls intuitive, in the moment and personally transcending. The initial response to these new works has been strongly positive.
Diane's art is held in private collections in Canada, the United States, Mexico and Europe.